Tempo Meditation and Breathing App Case study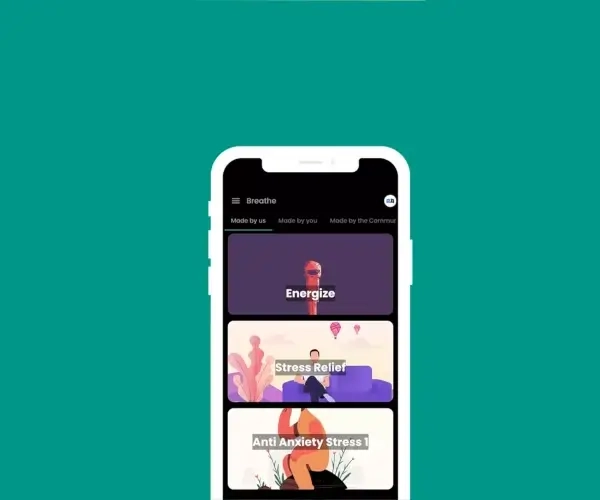 Multiverse Software was approached by a UK-based pharmacist with an innovative idea for a mindfulness and breathing application called Tempo. The client's vision was to create an app that would help users improve their mental and physical well-being through effective breathing techniques. The client had a clear concept and detailed sketches for the design of the application, and the goal was to develop a user-friendly and engaging platform.
Client Objectives
The inception of this project began when our client, who is also a practising Pharmacist in the United Kingdom, reached out to us with his idea of mindfulness and breathing application, we were more than excited to lay our hands in the process. His main purpose was to allow users to breathe effectively because he believes and has been proven that the way we breathe affects our mental and physical health. He not only came up with the idea but he also had some of the detailed sketches of the concept and how he wanted the design of the application to be.
Solution
To meet the client's objectives and create a unique and user-friendly application, Multiverse Software followed a comprehensive design and development process. Here is an overview of the key steps and strategies employed:
User Research
The design process began with extensive user research to understand the target audience's needs, preferences, and pain points. This research helped identify opportunities for differentiation and improvement compared to existing meditation and mindfulness apps.
Competitive Analysis
A thorough analysis of the existing mindfulness and meditation apps in the market was conducted. This analysis revealed common patterns and shortcomings in the competitors' offerings, which provided insights on how to make Tempo stand out.
Design Process
Multiverse Software followed a UX design process consisting of four key phases: User Research, Define & Analysis, Strategy, and Design. This systematic approach ensured consistency and user-centric design decisions throughout the process.

Tempo Mediation Mobile App Case Study Ui Design Process
Concept Development
The concept of Tempo went beyond providing guided breathing techniques. It aimed to create a sense of community and allow users to upload their own breathing patterns. This unique aspect was carefully integrated into the design to enhance user engagement and customization.
Design System
A design system was established to maintain consistency and streamline the design process. This system included patterns, guidelines, and components that ensured a cohesive and visually appealing user interface.
UI Design
The UI design of Tempo focused on simplicity and ease of use. A darker UI was chosen to suit evening usage, and unnecessary complexity was eliminated to provide a seamless and effortless user experience. Different categories were created, including pre-made breathing patterns, user-created patterns, and patterns from the community.
Technical Details
The development of Tempo involved utilizing the Flutter framework for both mobile and web apps. The backend was developed using Firebase and AWS, ensuring scalability and synchronization. CI/CD pipelines were set up using Flutter CI, and Fastlane was used for release automation. Multiverse Software provided end-to-end services, including design, development, QA testing, deployment, and post-release management.
Results and Impact
The design and development of Tempo had a significant impact on the mental and physical well-being of its users. Here are the key outcomes and achievements:
Personalized Breathing Patterns
Tempo provided users with personalized curated breathing patterns, allowing them to choose patterns based on their specific needs and moods. This customization enhanced the effectiveness and relevance of the breathing exercises.
Community Building
The inclusion of a community feature in Tempo fostered a sense of belonging and encouraged users to share their own breathing patterns. This feature created a vibrant and supportive environment within the app, enhancing user engagement and retention.
Differentiation from Competitors
Through a comprehensive competitive analysis, Tempo was designed to address the shortcomings of existing meditation and mindfulness apps. By offering well-thought breathing patterns, customization options, and a strong community focus, Tempo stood out and attracted a significant user base.
User-Friendly and Engaging UI
The minimalist yet energetic interface of Tempo provided users with a familiar feel, enabling easy navigation and intuitive usage. The darker UI and streamlined user flow contributed to a calming and immersive experience.
Positive User Feedback
Tempo received positive feedback from users who appreciated the app's free features, customizable vibrations and voice-overs, and the ability to create personalized breathing patterns. These features addressed common pain points identified during the research phase.
Conclusion and Considerations
While developing Tempo Meditation, breathing and mindfulness app, we took a lot of consideration and iterations to make the app user friendly. Through this process, the Multiverse Software team learnt the following things:
Users:

Always listen to users. They are the ones who will be using the app.

Don't try to solve everything,

or you'll end up with nothing.

Don't focus on solutions,

focus on problems.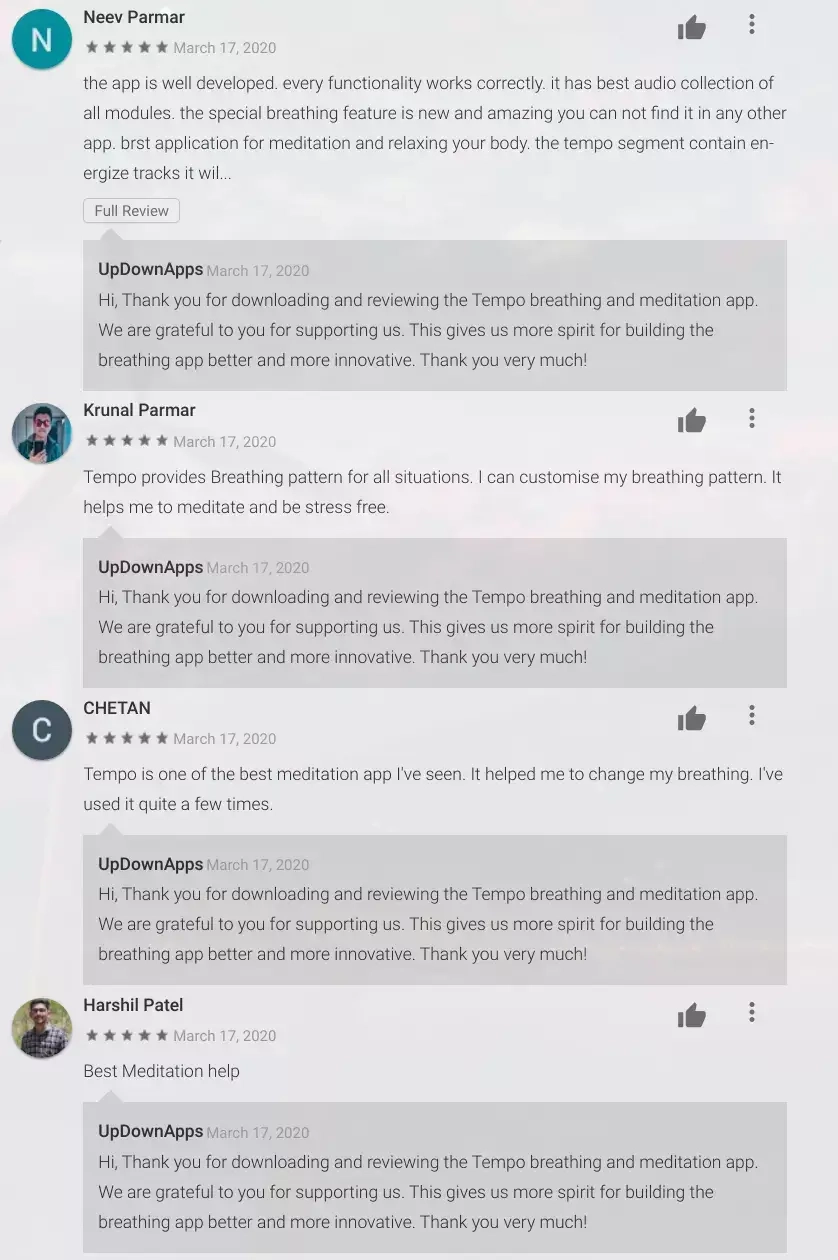 Tempo Mediation Mobile App Case Study user reviews
Contact Us
Get in touch with us
We don't spam, we promise!
We get measurable results and stellar execution. We're happy to answer any questions that you may have. Drop us a note and we'll get back to you within 24 hours.
Why Us:
Result Driven
Transparent
What happens next?
1
We Schedule a call at your convenience
2
We do a discovery and consulting meting
Schedule a Free Consultation